These premiums are available by phone only. Please call 800-549-8855 (549-8855) to pledge and claim one of these gifts. SOME GIFTS MAY BE 100% CLAIMED. WE WILL DO OUR BEST TO KEEP THIS LIST UP-TO-DATE.
From War to Peace Wine Bottle Stopper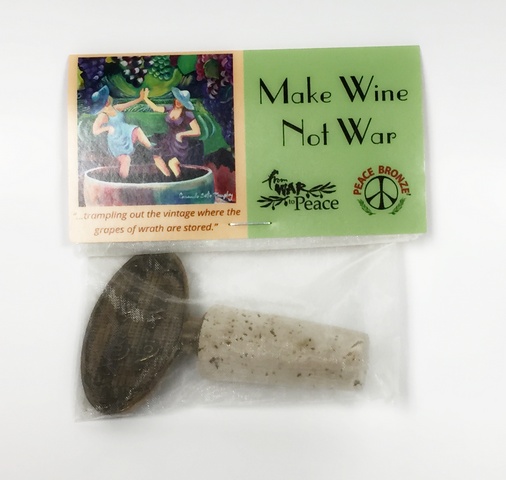 Our view is that the world would be a better place if there was no more war and you could keep your bottle of wine fresh for the next pour. These stopper tops are created from our unique Peace Bronze - A material made from disarmed and recycled nuclear missile systems.
Minimum Pledge: $30
Organic Soil Amendments (Manure)
2088 Lariat Dr. Los Osos
Your flowers will love it. 1 Pickup or trailer loaded.
Minimum Pledge: $60
Lost Kidnapped Eaten Alive! (Book)
Whether she is lost in downtown Melbourne, kidnapped in the scorching Tunisian desert, or eaten alive by the blood-sucking denizens of tropical north Queensland, King's stories—poignant, quirky, and often quite funny—are inspiring and entertaning.
Minimum Pledge: $60
The NPR Listener's Encyclopedia of Classical Music (Book)
A complete education in classical music, written with verve and wit. No music lover can pick up this one-volume compendium without becoming a more knowledgeable, discerning listener.
Minimum Pledge: $60
Pawpaw: In Search of America's Forotten Fruit (Book)
The largest edible fruit native to the United States tastes like a cross between a banana and a mango. It grows wild in twenty-six states, gracing Eastern forests each fall with sweet-smelling, tropical-flavored abundance. Historically, it fed and sustained Native Americans and European explorers, presidents, and enslaved African Americans, inspiring folk songs, poetry, and scores of place names from Georgia to Illinois.
Minimum Pledge: $60
The Long Road South - Vagabond Diaries 1971-1972 (Book)
Written by local auther and past owner of Pete's Southside Cafe Pete Kelly. The Long Road South recaptures an adventure Pet made 45 years ago hitchhiking overland from the Central Coast to Southern Chile.
Minimum Pledge: $60
American Made: A Boomer's Reflection (Book)
American Made captures the aura of the boomer-dominated American culture, starting in the '60s up to the present day. Written by Cliff Branch, one of the pioneers in youth marketing during the post-Vietnam era, the book features an abundance of compelling photographs (over 600 images) chronicling the last 50 years of American pop, business and political culture. Heartfelt and humorous, American Made is fearless in its scrutiny of the Boomer Generation.
Minimum Pledge: $60
For the Sender: Four Letter. Twelve Songs. One Story (Book)
Singer-songwriter Alex Woodard was letting go of his best friend, a Labrador named Kona, and most of his dreams when he received a letter that would change the course of his life. What began as a song about that letter evolved into a book and album package about real-life letters, featuring Grammy-winning artists and a live show that has sold out every performance and inspired thousands in its first few months.
Minimum Pledge: $60
An Outlaw and a Lady: A Memoir of Music and Life with Waylon Jennings. (Includes Jessi Colter CD: The PSALMS)
An Outlaw and a Lady is a powerful story of American music, of love in the midst of heartache, and of faith that sustains. Written by Jessi Colter.
Minimum Pledge: $60
Folk Photography: Poems I've Never Written (Joe Schwartz)
Beautiful softback photo book (9.5" x 13.5") featuring black & white photos by Photographer Joe Schwartz. (1913 - 2013).
Minimum Pledge: $60
Bernard Maybeck: Architect of Elegance (Hardback)
Los Osos
Independent, visionary, dramatic, eclectic — Bernard Maybeck is a luminary of American architecture whose work is particularly prized in the San Francisco Bay Area, where the majority of his masterworks can be found.
Minimum Pledge: $60
A Prairie Home Companion Camping Mug
A metal camp mug to hold your beverage while enjoying A Prairie Home Companion.
Minimum Pledge: $60
Louisa's Restaurant $25 Gift Certificate & Goodies)
964 Higuera St, San Luis Obispo
$25 Gift Certificate, Louisa's T-shirt and Coffee mug, Salt 'n Pepper shakers
Minimum Pledge: $75
1 Month Weekly Yoga Class
2815 Branch Mill Rd, Arroyo Grande
One month weekly Kundalini yoga class with teacher Mark Davis and and organic veggie farm box of seasonal vegetables and herbs.
Minimum Pledge: $100
Morin Brothers Oil Change Service
4090 Broad St. SLO
Up to 5 quarts of conventional motor oil, oil filter, engine and chassis inspection. Inspect fluid levels & condition, tire pressure, tread depth, brake pad, drive belts, cooling system and more.
Minimum Pledge: $120
SLO Botanical Garden Household Membership
3450 Dairy Creek Rd. SLO
Thisi membership includes access to over 300 gardens througout North america and the Cayman Islands, discount, monthly newsletter, access to reference library and more.
Minimum Pledge: $120
Forever Stoked Paint Party Pair of Passes
1164 Quintana Rd. Morro Bay
Have a fun few hours to travel on a creative paint journey guided by a member the fun loving Foreverstoked crew. You will receive as much or as little instructions you prefer. No artistic experience is necessary...just a good attitude. They provide all necessary materials and supplies. Of course you keep your canvas creation. Bring whatever food or drink that makes you comfortable to have fun with the paint.
Minimum Pledge: $120
Salle des Fers Introductory Fencing Lesson for Two
San Luis Obispo
Pronounced: "Sal De FAIR" Introductory fencing lesson for two with foil, epee or sabre and period swords, long sword and rapier. A "Great" relationship equalizer...take a stab at it.
Minimum Pledge: $150
Coalesce Bookstore $100 Gift Certificate
845 Main St. Morro Bay
Coalsesce has been a landmark in Morro Bay since 1973. They're independent and offer new, used books. Visit there wedding chapel or one of their upcoming events. Visit www.coalescebookstore.com.
Minimum Pledge: $240
Private Group Cooking Class in Your Home
You'll get to customize the topics and dishes for your class, and learn how to prepare amazingly tasty snacks and meals with plenty of proteins, good fats, and minerals for balance of mind, body, and spirit according to ancient Asian and Indian principles.Together, you'll make 3 delicious dishes of your choice (vegetarian OR non-veg) such as: ginger-basil coconut curry brimming with seasonal veggies, sprouted and simmered whole grain millet and amaranth, live cultured vegetables, a beautiful pot of adzuki beans, and fantastic gluten free and sugar free desserts.
Minimum Pledge: $365