KCBX Dog Bottle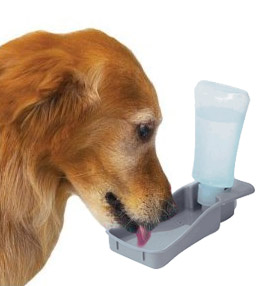 Don't let Fido out of the house without his KCBX water bottle.
Minimum Pledge: $30
KCBX License Plate Frame
Let the world know you're a KCBX listener and supporter with our license plate frame.
Minimum Pledge: $30
1 CD of your Choice
Come by the station and choose a CD out of our special selections OR let neal choose for you from one of the generes below.( ) Jazz ( ) Americana ( ) Classical ( ) Any genre
Minimum Pledge: $60
KCBX Sunshade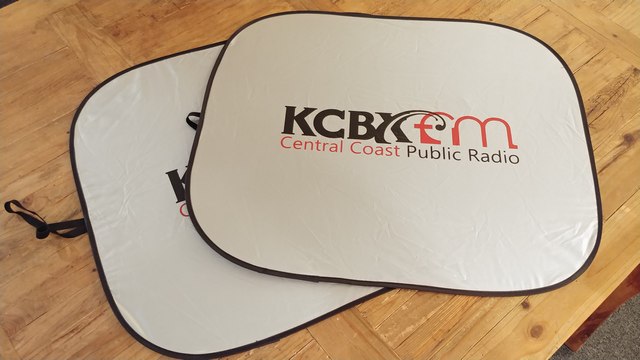 Keep your car cool with this one-of-a-kind KCBX car sunshade. Fits most standard cars. Each shade is 28" x 24".
Minimum Pledge: $75
KCBX Travel Mug
Traveling to the gym or the backyard, don't forget your KCBX Stainless Steel Travel Mug.
Minimum Pledge: $75
Morning Cup Cup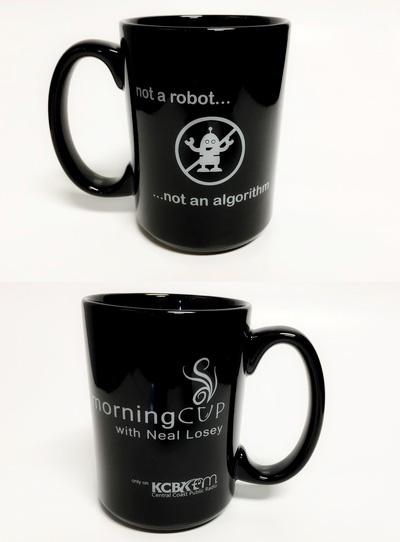 Get your morning, late morning, afternoon or evening started with our exclusive Morning Cup cup. Enjoy 16oz of java or you favorite beverage while groovin' to the tunes Neal Losey's layin' down. Like Neal says, he's "Not a robot..Not an algorithm." Hey, it says that on the cup!
Minimum Pledge: $75
KCBX Day Sponsor
Receive six 15 second on-air sponsorship spots on the day of your choice. You can wish a friend or family member "Happy Birthday," commemorate a day in a loved one's honor, or mention your non-profit event. (This benefit is not intended and cannot be used to promote commercial businesses or events. Please contact us about underwriting opportunities.)
Minimum Pledge: $240
Live Oak 2 (Any-Day) Day Passes
Minimum Pledge: $365
Live Oak 1 Full Festival Pass
Minimum Pledge: $365